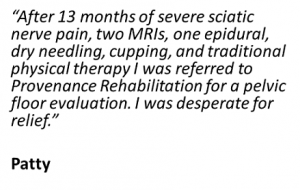 A former patient provided this recent testimony highlighting the work that Provenance Rehabilitation provides to its patients.  We wanted to share since it's a wonderful testimony on the experience, training, and capabilities of the staff.
"After 13 months of severe sciatic nerve pain, two MRIs, one epidural, dry needling, cupping, and traditional physical therapy I was referred to Provenance Rehabilitation for a pelvic floor evaluation. I was desperate for relief.
Jenny and Lori were lifesavers. These two ladies are caring problem solvers. Turns out it wasn't my pelvic floor but my fascia. Fascia? This was life-altering.
Week by week my condition improved and my pain gradually subsided. They used a combination of traditional physical therapy and myofascial release therapy (MFR). Heavy on the MFR. They consulted each other. They worked together as a team to heal me. They have the utmost patience combined with intelligence and genuine concern for their patients. They are the gold standard for their specialty.
I learned to be patient, to listen to my body and to respond accordingly. Every week we made progress. They never gave up. They educated me, they encouraged me and believed I could get better. I could be the poster child for MFR therapy.
Their healing has been a gift. Healing is a process. Healing is what they do.
It's true."
Patty
Atlanta, GA – November 2014